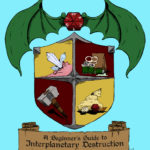 Boy, that Regnus fellow is weird. And on his hidden astral plane things are about to get worse! Also- the Baron finally drops his new mix tape!
Episode 2.8, "The Best Ol' Horror House in Texas" was written, voiced, and recorded by the Daves I know. Some of them are Davids, but most of them just "Dave."
Visit harbingersofcalamity.bandcamp.com to download original music from the show. "Pippin the Hunchback" and "Welcome to HorrorLand" appear courtesy of Kevin MacLeod, online at Incompetech.com.