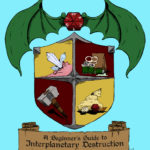 He's back, he's magick, and he's beardier than EVER! It's… damn it, what is his name? Derek? Doug? I dunno… It's Joan's brother! Let's all go on Mr. Nerd's Wild Ride! Also, Will's got a new looooove interest!
Episode 2.7, "Enter The Mad Mage" was written, voiced, and recorded by spirits from another realm, having possessed the flesh-carriages of some of today's most beloved podcasters; including Mark Marin, Kris Hardweck, and the lady from Cereal.
Visit harbingersofcalamity.bandcamp.com to download original music from the show. The songs "Lord of the Land", "The Descent", and "Black Vortex" appear courtesy of Kevin MacLeod, online at Incompetech.com. "Ascending Obsolescence" comes thanks to Krackatoa, online at krackatoa.com.