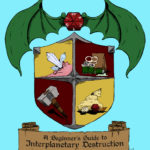 Oh, look another history lesson… Ted smuggles the Harbingers into his homeworld. Eugene's hidden artistic side is revealed. The Baron does a really good job of earning the group's distrust.
Episode 2.6, "Sweet Home R'yleh-bama" was written by William Mead. Real-life versions of your favorite A Beginner's Guide characters voiced and recorded this installment, including The Whiny One, Weird Voice, and The Girl!
Visit harbingersofcalamity.bandcamp.com to download original music from the show. The songs "Cepheid Disk and "Innermission" come from Airglow, and his album Memory Bank. Check him out at airglowsounds.bandcamp.com and soundcloud.com/airglowsounds. "Lost in a Foundry" comes from our friends Bearcub, @bearcubstl on Twitter, facebook.com/bearcubstl, and bearcubstl.bandcamp.com. Finally, "Nocturne Op 9 No. 1" is by Podington Bear, from the album Nocturnes. Hear more from him at podingtonbear.com, facebook.com/podingtonbear, and soundcloud.com/podingtonbear.