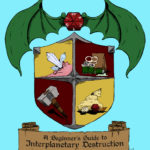 HISTORY! BACK STORY! EXPLANATIONS! ANSWERS YOU DON'T CARE ABOUT QUESTIONS YOU DIDN'T ASK! The Dark One's story in his own words!
Episode 2.5, "Something Something Dark One Origins: Genesis" was written, voiced, and recorded by people, at a place, using things.
Visit harbingersofcalamity.bandcamp.com to download original music from the show. The songs "Plans in Motion", "Satiate", "Suonatore di Liuto", and "Volitile Reaction" all appear courtesy of the wonderful Kevin MacLeod, online at incompetech.com.