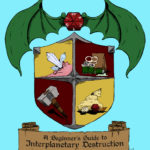 The Harbingers let Jon outta their sight for ONE SECOND, and he up and gets himself sold into slavery… again.  The gang's gotta find Grumps, but in their typical fashion they find themselves in the highest of jinx.  The Baron rights a wrong.
Episode 2.2, "Technosaurus Rex", was written, voiced, and recorded using an unholy amalgamation of magick and science.
Visit harbingersofcalamity.bandcamp.com to download original music from the show.  The song "Animal Companion" appears thanks to Dinofight, online at Dinofight.bandcamp.com.