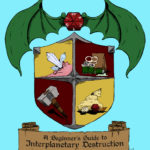 The mission was simple enough – Get. The. Thing. And they did! Time for some side quests, y'all! The group is finally whole again, and damn it, there'd better not be any more shake-ups! This episode is dedicated to underappreciated fanfic writers the world over.

Adam Baugher, William Mead, and Todd Roth all held hands and wished this episode into existence.
The main theme was composed by Ian McGowan and Daniel Williams, and was performed by the Interplanetary Destruction Players.
The songs "Lord of the Land", "Angevin", "Angevin B", "The Descent", "Drums of the Deep", and "Hall of the Mountain King" appear courtesy of Kevin MacLeod, online at Incompetech.com.  "Ascending Obsolescence" comes thanks to Krackatoa, online at krackatoa.com.  Visit harbingersofcalamity.bandcamp.com to download original music written and recorded by Daniel Williams and Ian McGowan.