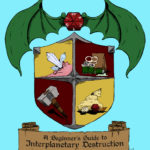 It's lonely out in space, but a reunion will set things right. Before that though – Fear! Terror! Water mammals? Things are getting weird, kids. Our group struggles to survive while Jon struggles to get that song out of his head. This episode is dedicated to Wilford Brimley's mustache.
This episode was factory assembled and freeze-dried for long lasting great taste by Adam Baugher, William Mead, and Todd Roth.
The main theme was composed by Ian McGowan and Daniel Williams, and was performed by the Interplanetary Destruction Players.
"Hanley's Meadow Opening" and "Hanley's Meadow Outdoor Drone" appear courtesy of The Rats & People Motion Picture Orchestra, online at theratsandpeople.com. The song "Wait 'til They Get a Load of Me" was provided by Sex In The Eighties, and can be found online at harbingersofcalamity.bandcamp.com. "Bacterial Love" comes from Rolemusic, online at rolemusic.sawsquarenoise.com. Finally, Herr Doktor provided "Interlude" and "Walk". Find him online at soundcloud.com/herrdoktordj.