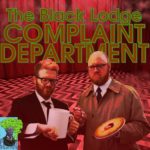 In "Part 11", to the God of Death Miriam says NOT TODAY! Meanwhile, Becky totally loses her shit and violently assaults an apartment door. As a parent, Daniel just can't approve of how Shelley and Bobby deal with the situation. Let's not forget that, if it weren't for Szymon's fresh-baked cherry pie, our poor Dougie-Cooper might be a dead man. Pie is America's hero.
Our main theme, "Downstream" was composed by CNTRL_ALT_DSTRY. The song "Ghostwood" was composed by Gridscape. Both appear courtesy of Retro Promenade, online at retropromenade.bandcamp.com. Additional interstitial music was provided by Ian McGowan.
The Black Lodge Complaint Department is brought to you by CalamityCast; produced by Daniel Williams; and co-created by Adam Baugher and Daniel Williams.