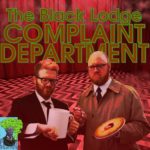 On this week's episode we're covering "Part 12". Adam and Daniel join Tammy and, ugh, "Diane", as the newest recruits into the Blue Rose task force! Rejoice! The downside is we have to listen to Gordon Cole tell boring stories to strange French women. Booooooo. Also, Sarah Palmer thinks turkey jerky is bullshit, and Daniel heartily disagrees! Oh yeah, and Audrey returns! It sucks.
Our main theme, "Downstream" was composed by CNTRL_ALT_DSTRY. The song "Ghostwood" was composed by Gridscape. Both appear courtesy of Retro Promenade, online at retropromenade.bandcamp.com. Additional interstitial music was provided by Ian McGowan.
The Black Lodge Complaint Department is brought to you by CalamityCast; produced by Daniel Williams; and co-created by Adam Baugher and Daniel Williams.