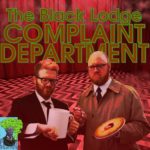 Listen, Daniel loves the Log Lady as much as the next guy that doesn't like Twin Peaks, but he firmly believes that Laura Palmer sucks and is not "The One." In "Part 10" we see more classic Twin Peaks-branded violence against women; which, just for the record, sucks and is unecessary! Also, and unrelated, Nadine and Janie-E are super horny.
Our main theme, "Downstream" was composed by CNTRL_ALT_DSTRY. The song "Ghostwood" was composed by Gridscape. Both appear courtesy of Retro Promenade, online at retropromenade.bandcamp.com. Additional interstitial music was provided by Ian McGowan.
The Black Lodge Complaint Department is brought to you by CalamityCast; produced by Daniel Williams; and co-created by Adam Baugher and Daniel Williams.