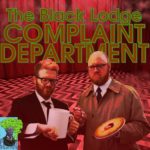 In this week's episode, our intrepid hosts Adam and Daniel cover "Part 9", in which we're introduced to Tim Roth's less-than-stellar accent work, the LVPD are surprisingly good at their jobs, and Gordon Cole is reunited with Major Garland Briggs… more or less.
Our main theme, "Downstream" was composed by CNTRL_ALT_DSTRY. The song "Ghostwood" was composed by Gridscape. Both appear courtesy of Retro Promenade, online at retropromenade.bandcamp.com. Additional interstitial music was provided by Ian McGowan. Extra-special thanks go out to リズム for the use of "Love" in the cold open. Check out their tunes at 9rhythm9.bandcamp.com!
The Black Lodge Complaint Department is brought to you by CalamityCast; produced by Daniel Williams; and co-created by Adam Baugher and Daniel Williams.