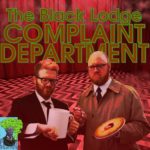 Daniel and Adam are again joined by a man who, until recently, was considered a friend – Heath Aldrich! His opinions re: "Part 8" really put ol' D Willi in a funk >:( Anyway, Ray takes a step towards redemption by gunning down Mr. C (hooray!) but thanks to the homeopathy of THE WOODSMEN, Mr. C is risen! (boo). Other stuff happens and none of it makes sense! Atomic bomb testing, interdimensional barf, a space boogen assaults a minor! This is the weirdest Twin Peaks has ever been, and Daniel hates it!
Our main theme, "Downstream" was composed by CNTRL_ALT_DSTRY. The song "Ghostwood" was composed by Gridscape. Both appear courtesy of Retro Promenade, online at retropromenade.bandcamp.com. Additional interstitial music was provided by Ian McGowan.
The Black Lodge Complaint Department is brought to you by CalamityCast; produced by Daniel Williams; and co-created by Adam Baugher and Daniel Williams.