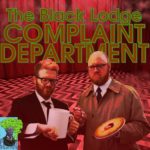 Listen we all know and all agree that Diane is the name Special Agent Dale Cooper gave to his most beloved possession, his Realistic Micro-27 handheld tape recorder. So it's weird to Daniel that, in "Part 7" Laura Dern shows up playing a character named "Diane!" THERE CAN'T BE TWO DIANES, TWIN PEAKS!!! Some other stuff happens, like Mr. C blackmails the prison warden, and someone is looking for Billy!
Our main theme, "Downstream" was composed by CNTRL_ALT_DSTRY. The song "Ghostwood" was composed by Gridscape. Both appear courtesy of Retro Promenade, online at retropromenade.bandcamp.com. Additional interstitial music was provided by Ian McGowan.
The Black Lodge Complaint Department is brought to you by CalamityCast; produced by Daniel Williams; and co-created by Adam Baugher and Daniel Williams.