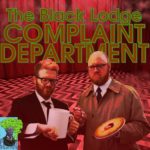 In this week's episode, Daniel takes a stand against murdering children! He's very brave. "Part 6" shows us a little more Richard Horne (mostly that he's a total beta cuck), Janey-E firmly stands up to Daniel Faraday, and Ike the Spike does what he does best!
Our main theme, "Downstream" was composed by CNTRL_ALT_DSTRY. The song "Ghostwood" was composed by Gridscape. Both appear courtesy of Retro Promenade, online at retropromenade.bandcamp.com. Additional interstitial music was provided by Ian McGowan.
The Black Lodge Complaint Department is brought to you by CalamityCast; produced by Daniel Williams; and co-created by Adam Baugher and Daniel Williams.