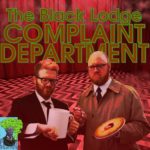 Today Adam and Daniel are discussing "Part 3" (Daniel is loving these titles) and what can be said, really?  It. Gets. Weird. Special Agent Dale Cooper, after last week's Red Room escape, finally makes it back to the real world, and the results are… disappointing, to say the least.  In Philadelphia, we meet Special Agent Tracy Preston, who has all the hawt goss on the Sam/Tracy murders.
Our main theme, "Downstream" was composed by CNTRL_ALT_DSTRY. The song "Ghostwood" was composed by Gridscape. Both appear courtesy of Retro Promenade, online at retropromenade.bandcamp.com. Additional interstitial music was provided by Ian McGowan.
The Black Lodge Complaint Department is brought to you by CalamityCast; produced by Daniel Williams; and co-created by Adam Baugher and Daniel Williams.