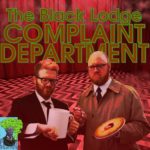 Daniel and Adam are here yet again to discuss Twin Peaks: The Return!  Sorry? And joining us is friend of the pod Heath Aldrich!  In, "Part 2" Mr. C's henchman Jack enjoys a delicious Spaghetti lunch, Hawk goes a-huntin' for the Black Lodge, and we meet THE ARM 2.0.  Also in this episode, Twin Peaks tries something new: Ending the ep with a musical performance at the Roadhouse?
Our main theme, "Downstream" was composed by CNTRL_ALT_DSTRY. The song "Ghostwood" was composed by Gridscape. Both appear courtesy of Retro Promenade, online at retropromenade.bandcamp.com. Additional interstitial music was provided by Ian McGowan.
The Black Lodge Complaint Department is brought to you by CalamityCast; produced by Daniel Williams; and co-created by Adam Baugher and Daniel Williams.