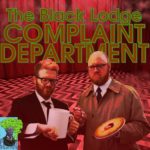 We are again joined by a guest! CalamityCast founding Member William Mead takes a seat at the table to chat about Twin Peaks episode 218 – "On the Wings of Love." We learn of some top-notch hangover cures, our guest gets enraged at the thought of eating unwashed carrots, and Lucy has feelings… underpants feelings.
Our main theme, "Downstream" was composed by CNTRL_ALT_DSTRY. The song "Ghostwood" was composed by Gridscape. Both appear courtesy of Retro Promenade, online at retropromenade.bandcamp.com. Additional interstitial music was provided by Ian McGowan.
The Black Lodge Complaint Department is brought to you by CalamityCast; produced by Daniel Williams; and co-created by Adam Baugher and Daniel Williams.