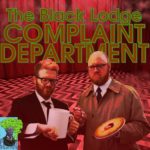 This week we're going over Twin Peaks episode 217, "Wounds and Scars" and, man, this one was something else. There's "good" and then there's "something else."  There's another romantic picnic scene, Norma's sister moves to town, and Truman gets friggin' trashed!
Our main theme, "Downstream" was composed by CNTRL_ALT_DSTRY. The song "Ghostwood" was composed by Gridscape. Both appear courtesy of Retro Promenade, online at retropromenade.bandcamp.com. Additional interstitial music was provided by Ian McGowan. Extra-special thanks go out to 18 Carat Affair for the use of "Ou Suis Je" in the cold open. Find them online at 18carataffair.bandcamp.com!
The Black Lodge Complaint Department is brought to you by CalamityCast; produced by Daniel Williams; and co-created by Adam Baugher and Daniel Williams.