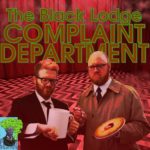 Adam and Daniel are at it again, covering episode 219 of Twin Peaks – "Variations and Relations." Once again, Windom Earle tries and fails to show us how scary he is. Also, Bobby's mind is shattered by the sensual truth comes from being with an older lady. OH AND GORDON COLE IS BACK AND HE'S HERE TO MAKE OUT!
Our main theme, "Downstream" was composed by CNTRL_ALT_DSTRY. The song "Ghostwood" was composed by Gridscape. Both appear courtesy of Retro Promenade, online at retropromenade.bandcamp.com. Additional interstitial music was provided by Ian McGowan.
The Black Lodge Complaint Department is brought to you by CalamityCast; produced by Daniel Williams; and co-created by Adam Baugher and Daniel Williams.