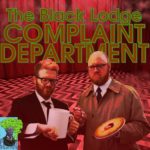 The fellas once again welcome a guest to their madness!  This time, Daniel's sister (whose name is, I wanna say is Sarah?) join in the discussion.  In, "Double Play" episode 214 of Twin Peaks, OH FUCK LEO'S AWAKE!  That can't be good… Certainly there are some more positive beats, right?  Uh, Evelyn and Malcolm enact their murderous plan, Thomas Eckhart appears, and then there's Windom Earle… soooo no, it's all gone to hell.  Dang.
Our main theme, "Downstream" was composed by CNTRL_ALT_DSTRY. The song "Ghostwood" was composed by Gridscape. Both appear courtesy of Retro Promenade, online at retropromenade.bandcamp.com. Additional interstitial music was provided by Ian McGowan.
The Black Lodge Complaint Department is brought to you by CalamityCast; produced by Daniel Williams; and co-created by Adam Baugher and Daniel Williams.