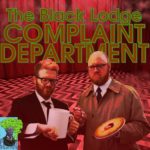 Wow, episode 215 of Twin Peaks, entitled "Slaves and Masters" is something else, folks.  Windom Earle is a truly disappointing villain, Catherine enjoys a delicious pig's head dinner with Thomas Eckhart, and James gets wanged on the noggin.  On the plus side… um, hmmm… oh! Shelly and Norma share a sensual scene at the Double R!
Our main theme, "Downstream" was composed by CNTRL_ALT_DSTRY. The song "Ghostwood" was composed by Gridscape. Both appear courtesy of Retro Promenade, online at retropromenade.bandcamp.com. Additional interstitial music was provided by Ian McGowan.
The Black Lodge Complaint Department is brought to you by CalamityCast; produced by Daniel Williams; and co-created by Adam Baugher and Daniel Williams.