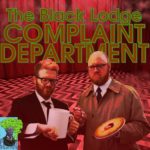 In this week's episode of BLCD, Daniel… he may be losing it, guys.  "Checkmate", episode 213 of Twin Peaks, tore him down, similar to, but in a less-racist way than, how Ben Horne is being torn down.  It's mentally exhausting! Elsewhere, Truman and Cooper try to capture ol' Jean Renault, and… hey, it works! Neat! Also, Catherine is up to her old shenanigans!
Our main theme, "Downstream" was composed by CNTRL_ALT_DSTRY. The song "Ghostwood" was composed by Gridscape. Both appear courtesy of Retro Promenade, online at retropromenade.bandcamp.com. Additional interstitial music was provided by Ian McGowan.
The Black Lodge Complaint Department is brought to you by CalamityCast; produced by Daniel Williams; and co-created by Adam Baugher and Daniel Williams.