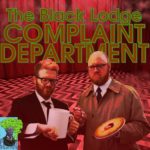 This week our hosts are under the influence of episode 106 of Twin Peaks, "Demons".  After what seems like forever, Audrey is back in the safe embrace of Twin Peaks.  Maddy decides (a little late, if you ask Daniel) it's time to get the hell outta town.  The episode ends with huge revelations about ghosts? Or possibly aliens. Probably the ghosts of ancient aliens.
Our main theme, "Downstream" was composed by CNTRL_ALT_DSTRY. The song "Ghostwood" was composed by Gridscape. Both appear courtesy of Retro Promenade, online at retropromenade.bandcamp.com. Additional interstitial music was provided by Ian McGowan.
The Black Lodge Complaint Department is brought to you by CalamityCast; produced by Daniel Williams; and co-created by Adam Baugher and Daniel Williams.