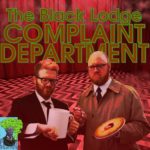 Daniel and Adam make their way through episode 205 of Twin Peaks, "The Orchid's Curse".  At least we're almost through the season… what?  THERE ARE 22 EPISODES THIS SEASON?! Ugh… well, Cooper finally finds Audrey's note from ep108, which means that his room is never cleaned.  Wow, the Great Northern is gross.  Schemes are plotted, executed, and bumbled.  Oh, and Lucy gets an abortion!  Probably.
Our main theme, "Downstream" was composed by CNTRL_ALT_DSTRY. The song "Ghostwood" was composed by Gridscape. Both appear courtesy of Retro Promenade, online at retropromenade.bandcamp.com. Additional interstitial music was provided by Ian McGowan.  Extra-special thanks go out to Waterfront Dining for the use of "Chocolate" in the cold open.  Check out their tunes at waterfrontdining.bandcamp.com!
The Black Lodge Complaint Department is brought to you by CalamityCast; produced by Daniel Williams; and co-created by Adam Baugher and Daniel Williams.