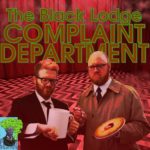 Oh dang, it's episode 204 of Twin Peaks, "Laura's Secret Diary"!  Leland has been arrested for doing a civic duty, WTH?  Harold (aka Charles) gets way too flirtatious with Donna, and we're introduced to the baddest French Canadian in town – JEAN RENAULT!
Our main theme, "Downstream" was composed by CNTRL_ALT_DSTRY. The song "Ghostwood" was composed by Gridscape. Both appear courtesy of Retro Promenade, online at retropromenade.bandcamp.com. Additional interstitial music was provided by Ian McGowan.
The Black Lodge Complaint Department is brought to you by CalamityCast; produced by Daniel Williams; and co-created by Adam Baugher and Daniel Williams.