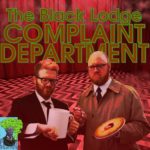 This week our hosts discuss episode 203 of Twin Peaks, "The Man Behind The Glass".  We learn that Albert is a Warrior of Love, or something equally as silly.  We also learn Black Rose and Emory's evil plan – fill Audrey with all of the heroin, and ransom her for cash.  Makes sense…
Our main theme, "Downstream" was composed by CNTRL_ALT_DSTRY. The song "Ghostwood" was composed by Gridscape. Both appear courtesy of Retro Promenade, online at retropromenade.bandcamp.com. Additional interstitial music was provided by Ian McGowan.
The Black Lodge Complaint Department is brought to you by CalamityCast; produced by Daniel Williams; and co-created by Adam Baugher and Daniel Williams.