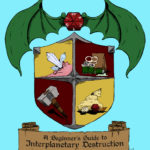 The curtain gets pulled back. The wizard is met, and he's kind of an asshole.  Intergalactic politics hasn't been this exciting since The Phantom Menace! This episode is dedicated to Kal-El.
This episode was spewed forth from the minds of Adam Baugher, William Mead, and Todd Roth.
The main theme was composed by Ian McGowan and Daniel Williams, and was performed by the Interplanetary Destruction Players.
Visit harbingersofcalamity.bandcamp.com to download original music written and recorded by Daniel Williams and Ian McGowan. The song "A Few Good Men" comes from MSIF, at msif.bandcamp.com. "8-bit Dungeon Boss" appears courtesy of Kevin MacLeod, at Incompetech.com. Finally, "Julius Seizure" and "Groaning Clones" are from Commichung, and can be found online at harbingersofcalamity.bandcamp.com.