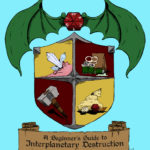 The past becomes the present and the future is now (again)! Quickly mourn two more fallen comrades, but don't take too long! There be booty to plunder! This episode is dedicated to the Truffle Shuffle.
This episode took the collected efforts of Adam Baugher, Ian McGowan, William Mead, Todd Roth, and Daniel Williams to write.
The main theme was composed by Ian McGowan and Daniel Williams, and was performed by the Interplanetary Destruction Players.
Visit harbingersofcalamity.bandcamp.com to download original music written and recorded by Daniel Williams and Ian McGowan. The songs "Gypsy Shoegazer" and "Miris Magic Dance" appear courtesy of Kevin MacLeod, at Incompetech.com. "Poker Stomp" comes from The Rats & People Motion Picture Orchestra, at theratsandpeople.com. "So What's the Use" was performed by Billy Murray, and comes from freemusicarchive.org. Finally, the songs "The Drunken Billy Goat", "Tripping Up the Stairs", and "Coleraine" were performed by Nicole Kovaluk.