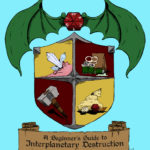 Huzzah! New character back-story! Jealousy and confusion! Mutants? This episode has it all! Ted demands trial by combat, but who will be his champion? Spoilers- nobody! This episode is dedicated to all the single ladies on Themyscira.
This episode was hastily typed up by Ian McGowan and Daniel Williams.
Our most badass theme yet was arranged and performed by Ian McGowan and Daniel Williams.
Visit harbingersofcalamity.bandcamp.com to download original music written and recorded by Daniel Williams and Ian McGowan. The songs "Exhilarate" and "Future Gladiator" appear courtesy of Kevin MacLeod, at Incompetech.com. MSIF provided "The Boogie That's Mine." Find him online at msif.bandcamp.com.