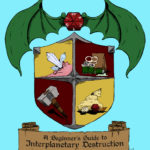 There's a familiar hum in the air. Is it love that our group is feelin'? Nah, it's death, destruction, and mayhem. The coffee is pretty good here though. This episode is dedicated to Burt Reynolds.
This episode was etched in to the cultural zeitgeist by Adam Baugher and Todd Roth.
The main theme was composed by Ian McGowan and Daniel Williams, and was performed by the Interplanetary Destruction Players.
Visit harbingersofcalamity.bandcamp.com to download original music written and recorded by Daniel Williams and Ian McGowan. The songs, "Wasted" and "Composite Sketch" appear courtesy of Popular Mechanics, online at popularmechanics.bandcamp.com. "I Just Wanna Get Inside Ya" comes from Tight Pants Syndrome, online at tightpantssyndrome.bandcamp.com. "Digital Bark", "Robopocalypse 2" and "Unnatural Situation" are courtesy of Kevin MacLeod, at Incompetech.com. Finally, the song "Trendsetter" was provided by Sex In The Eighties, and can be found online at harbingersofcalamity.bandcamp.com.