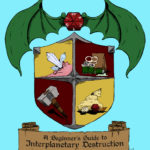 THE FUTURE IS NOW.  IN A WORLD WHERE RIDICULOUS STEREOTYPES BASED ON NATIONALITY GO UNNOTICED CAN OUR HEROES BEAT THE CLOCK, GET THE GIRL, AND SAVE THE DAY?  This episode is dedicated to all of the fallen replicants.  Never forget.
This episode was painstakingly assembled by Ian McGowan and Daniel Williams.
The main theme was composed and performed by Ian McGowan and Daniel Williams.
Visit harbingersofcalamity.bandcamp.com to download original music written and recorded by Daniel Williams and Ian McGowan. The songs "Just a Human" and "Electric Dice" appear courtesy of Humdrum, online at humdrumband.com. "Full Circle" and "Touch Me, Touch Me (I'm Just That Type of Girl)" come from MSIF, at msif.bandcamp.com.