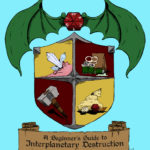 A glimmer of hope as the group returns from whence they came.  A new quest, new allies, and new revelations abound.  This episode is dedicated to William T. Riker.
This episode was crafted with love by Ian McGowan and Daniel Williams.
The main theme was composed by Ian McGowan and Daniel Williams, and was performed by The Good Deeds (featuring Daniel Williams on drums).
The songs "Kick in the Teeth", "Whiskey at the End of the World", and "Caffeine, Nicotine, and Reefer" appear courtesy of The Campfire Club, online at thecampfireclub.bandcamp.com. "Whorehouse" and "Milkin' It" come from The Rats & People Motion Picture Orchestra, at theratsandpeople.com.