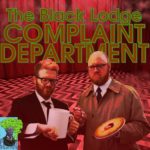 In "Part 15" we sadly say goodbye to the Log Lady. She served bravely in the war against the Black Lodge, and she will be missed. Elsewhere, Mr. C meets face-to-face… well, face-to-tea kettle, with PHILIP JEFFERIES, who, I guess lives in a giant tea kettle at the Dutchman's Lodge? Who even knows with this show… Also, there's more Audrey (blech), and James pays the price for being nice to a person!
Our main theme, "Downstream" was composed by CNTRL_ALT_DSTRY. The song "Ghostwood" was composed by Gridscape. Both appear courtesy of Retro Promenade, online at retropromenade.bandcamp.com. Additional interstitial music was provided by Ian McGowan.
The Black Lodge Complaint Department is brought to you by CalamityCast; produced by Daniel Williams; and co-created by Adam Baugher and Daniel Williams.