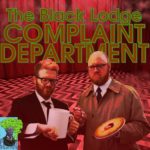 Hot damn! "Part 14" is coffee time, baby! Alzorn Rennerskön gives us all a Blue Rose history listen, and we get to learn about tulpas. Weeeeeeee no. It turns out Diane is related to Janie-E, which ends up being not important in the slightest. Oh, and Naido is nekkid in the woods because David Lynch is a Champion for Women Everywhere. Is Andy the real hero of this story? Wild…
Our main theme, "Downstream" was composed by CNTRL_ALT_DSTRY. The song "Ghostwood" was composed by Gridscape. Both appear courtesy of Retro Promenade, online at retropromenade.bandcamp.com. Additional interstitial music was provided by Ian McGowan.
The Black Lodge Complaint Department is brought to you by CalamityCast; produced by Daniel Williams; and co-created by Adam Baugher and Daniel Williams.