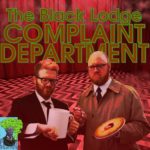 Things are more or less garbage for our hosts, and they're not too hot for the residents of Twin Peaks, either! In "Masked Ball", episode 211 of Twin Peaks, Ben loses One Eyed Jack's, Cooper may be losing his freedom, and Ol' Tricky Dick Tremayne nearly loses his leg. On the plus side – Denise Bryson arrives in town, and she is a real joy!
Our main theme, "Downstream" was composed by CNTRL_ALT_DSTRY. The song "Ghostwood" was composed by Gridscape. Both appear courtesy of Retro Promenade, online at retropromenade.bandcamp.com. Additional interstitial music was provided by Ian McGowan.
The Black Lodge Complaint Department is brought to you by CalamityCast; produced by Daniel Williams; and co-created by Adam Baugher and Daniel Williams.