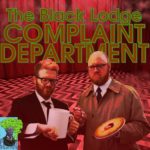 "Dispute Between Brothers", episode 210 of Twin Peaks, shows us just how shiny patent leather shoes can get.  We also get to see Cooper realize his dream of becoming a real Bookhouse Boy, and our hosts discuss the trials and tribulations of night fishing, which include how to stay awake during such a boring activity, and alien abduction.  Also, it appears neither Cooper nor Maj. Briggs know how to roast marshmallows.
Our main theme, "Downstream" was composed by CNTRL_ALT_DSTRY. The song "Ghostwood" was composed by Gridscape. Both appear courtesy of Retro Promenade, online at retropromenade.bandcamp.com. Additional interstitial music was provided by Ian McGowan.
The Black Lodge Complaint Department is brought to you by CalamityCast; produced by Daniel Williams; and co-created by Adam Baugher and Daniel Williams.