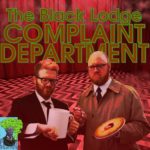 This week our hosts take a gander at episode 106 of Twin Peaks, "Cooper's Dreams". Jerry and Ben party with the Icelandic investors! Coop hates them 🙁  Donna, James, and Maddy (aka the Scooby Gang) decide it's up to them to solve Laura's murder (kids are dumb). The Briggs family goes to family counseling (this is a very good idea), and Shelly shoots Leo! Good on you, girl!
Our main theme, "Downstream" was composed by CNTRL_ALT_DSTRY. The song "Ghostwood" was composed by Gridscape. Both appear courtesy of Retro Promenade, online at retropromenade.bandcamp.com. Additional interstitial music was provided by Ian McGowan.
The Black Lodge Complaint Department is brought to you by CalamityCast; produced by Daniel Williams; and co-created by Adam Baugher and Daniel Williams.