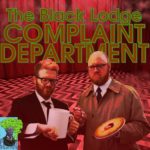 Daniel and Adam make their way through episode 105 of Twin Peaks, "The One-Armed Man". As the title suggests, our heroes(?) actually find the one-armed man from Cooper's dream! What a really weird coincidence… Other things happen! Norma goes to Hank's parole hearing, Bobby and Shelly are playing a very dangerous (and sexy) game, and James meets Maddy.
Our main theme, "Downstream" was composed by CNTRL_ALT_DSTRY. The song "Ghostwood" was composed by Gridscape. Both appear courtesy of Retro Promenade, online at retropromenade.bandcamp.com. Additional interstitial music was provided by Ian McGowan.
The Black Lodge Complaint Department is brought to you by CalamityCast; produced by Daniel Williams; and co-created by Adam Baugher and Daniel Williams.