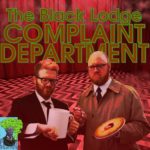 This week our hosts discuss episode 103 of Twin Peaks, "Zen, or the Skill to Catch a Killer". It's one of Adam's favorites, but Daniel just doesn't see the appeal :/  Cooper shares his unique methodology for catching criminals, which involves rocks. We get new characters, Jerry Horne, and grumpy FBI agent Albert Rosenstein (he's a real jerk). Finally, Cooper has a real heady dream, man.
Our main theme, "Downstream" was composed by CNTRL_ALT_DSTRY. The song "Ghostwood" was composed by Gridscape. Both appear courtesy of Retro Promenade, online at retropromenade.bandcamp.com. Additional interstitial music was provided by Ian McGowan.
The Black Lodge Complaint Department is brought to you by CalamityCast; produced by Daniel Williams; and co-created by Adam Baugher and Daniel Williams.