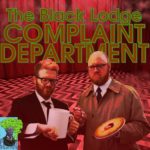 Adam and Daniel tackle episode 102 of Twin Peaks, "Traces to Nowhere", despite Daniel already feeling like this is a buncha too much.  The investigation into Laura Palmer's death continues! Cooper interviews James, Leo beats Shelly, and Sarah has visions (OoOoOoOo!)
Our main theme, "Downstream" was composed by CNTRL_ALT_DSTRY. The song "Ghostwood" was composed by Gridscape. Both appear courtesy of Retro Promenade, online at retropromenade.bandcamp.com. Additional interstitial music was provided by Ian McGowan.
The Black Lodge Complaint Department is brought to you by CalamityCast; produced by Daniel Williams; and co-created by Adam Baugher and Daniel Williams.