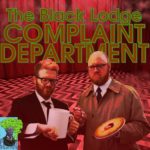 On this Very Special Episode of The Black Lodge Complaint Department, the dudes begin their discussion of Twin Peaks: Fire Walk With Me! We get introduced to new characters, new locations, and just so. much. creamed corn. We also get to finally meet this Laura Palmer lady everyone's always talking about!

Our main theme, "Downstream" was composed by CNTRL_ALT_DSTRY. The song "Ghostwood" was composed by Gridscape, and "Night Owls (The Pink Room Remix) is by Proctor 101. All appear courtesy of Retro Promenade, online at retropromenade.bandcamp.com. Additional interstitial music was provided by Ian McGowan.  Check out his band The Good Deeds at gooddeedsmusic.bandcamp.com.

The Black Lodge Complaint Department is brought to you by CalamityCast; produced by Daniel Williams; and co-created by Adam Baugher and Daniel Williams.