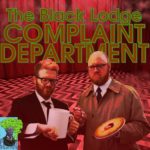 Well well well, with "Part 18" the series finally concludes! While Daniel maintains the ending is unsatisfying, Adam firmly believes Cooper did the job he set out to do. Also: The worst sex scene in television history, and some rednecks are assaulted. But it's an alternate reality, maybe, so it doesn't count? Maybe…
Our main theme, "Downstream" was composed by CNTRL_ALT_DSTRY. The song "Ghostwood" was composed by Gridscape. Both appear courtesy of Retro Promenade, online at retropromenade.bandcamp.com. Additional interstitial music was provided by Ian McGowan.
The Black Lodge Complaint Department is brought to you by CalamityCast; produced by Daniel Williams; and co-created by Adam Baugher and Daniel Williams.