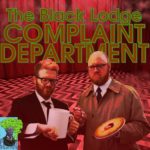 Once again we return with episode 201 of Twin Peaks, titled "May The Giant Be With You". The show finally delivers on the weirdness Daniel had been promised.  Mr Homn makes a guest appearance, and we make our way through the aftermath of last season's finale.
Our main theme, "Downstream" was composed by CNTRL_ALT_DSTRY. The song "Ghostwood" was composed by Gridscape. Both appear courtesy of Retro Promenade, online at retropromenade.bandcamp.com. Additional interstitial music was provided by Ian McGowan.  Extra-special thanks go out to Bart Graft for the use of "Chase on Brickell" in the cold open.  Check him out at bartgraft.bandcamp.com!
The Black Lodge Complaint Department is brought to you by CalamityCast; produced by Daniel Williams; and co-created by Adam Baugher and Daniel Williams.