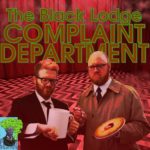 And so it begins!  In this, our inaugural episode of The Black Lodge Complaint Department, hosts Daniel Williams and Adam Baugher lay out the basic premise of the podcast.  In addition, they dive in to their personal history with Twin Peaks, and go into some of the back story behind the making of the pop culture "classic." Strap in as these two opposing forces take on what some might call a cultural phenomenon, and other more reasonable people might call "stupid."
Our main theme, "Downstream" was composed by CNTRL_ALT_DSTRY.  The song "Ghostwood" was composed by Gridscape. Both appear courtesy of Retro Promenade, online at retropromenade.bandcamp.com.  Additional interstitial music was provided by Ian McGowan.
The Black Lodge Complaint Department is brought to you by CalamityCast; produced by Daniel Williams; and co-created by Adam Baugher and Daniel Williams.