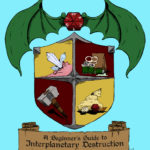 The Harbingers of Calamity reunite to celebrate the life of a friend. Until some. Thing. Happens. This episode is dedicated to Gary Gygax.
This episode was written by Adam Baugher, Ian McGowan, William Mead, Todd Roth, and Daniel Williams.
The main theme was composed by Ian McGowan and Daniel Williams, and was performed by the Interplanetary Destruction Players featuring Nicole Kovaluk, Ian McGowan, Matt Pace, David Ruvolo, Brien Seyle, and Daniel Williams.
Visit harbingersofcalamity.bandcamp.com to download original music written and recorded by Daniel Williams and Ian McGowan. The song "Pair of Eyes" appears courtesy of the band Humdrum, online at humdrumband.com. "Emlékmás" appears courtesy of Obsidian Shell, online at obsidianshell.com.